Better late than never, I welcome you all to my annual list. Always much too overthought, overwritten and over-analysed. Well, this year is no exception.
Royal Blood, Lorde, Alt-J, Arcade Fire, The Horrors and Everything Everything have all been sacrificed in order to compile this top ten list. Baring in mind that those are some of my favourite bands in this day and age, if not ever, some VERY difficult decisions have been made.
However, as always, it's not about the bands or the names, it's about praising the bodies of work and stunning records that have been released in the last twelve months, so let's crack on with it, shall we?
10) The War On Drugs – 'A Deeper Understanding'
At Number 10, to kick things off, we have the gorgeous and lucid tones of Adam Granduciel's The War On Drugs with their fourth effort, 'A Deeper Understanding'. Massively Springsteen-ified as is the norm with the six-piece, this record was always going to be following in the shadow of the hugely successful, 'Lost In The Dream' from 2014.
Saying that though, the Philadelphians stick to their guns and produce what is an impressive listen. The early tracks, including 'Pain' and 'Holding On' sound anthemic and connective. They're 'morning songs' as I like to call them. The 'evening songs' come in later on and personal favourite of mine is 'Thinking Of A Place'. Eleven minutes long, the mammoth track opens with spellbound synths and draws in lush acoustics. It's a song and an album in general that you can get insanely lost in.
Nominated for a Grammy award, it quite frankly deserves the accolade. 'A Deeper Understanding' I most certainly understand, it's a beauty.
9) Queens Of The Stone Age – 'Villains'
Here ya go then, potentially the coolest band on the list in at Number 9. What a rollercoaster few years Josh Homme and Dean Fertita have had since releasing the seminal, '…Like Clockwork' back in 2013. Endless touring, massively rewarding project with punk hero that is Iggy Pop and not to mention the support and courage that had to be maintained with friends and from-time-to-time bandmates, Eagles Of Death Metal after the unforgettable tragedy in Paris from a couple of years back.
All has led to releasing this fantastically flawless seventh LP, 'Villains'. Soused with swagger, ooze and slick songwriting, Josh Homme and co. create their most brash and haunting effort to date. Opening track, 'Feet Don't Fail Me' launches into a driving riff after a drawn-out build-up and you feel that the lyrics, 'when the needle hit the groove, I commenced moving' paves the way for the remainder of the record. We go clubbing with QOTSA in lead single, 'The Way You Used To Do', then mosh with them throughout frantic 'Head Like A Haunted House'. 'Xana-dos and xana don'ts' is a bonkers lyric on that track, fitting for a bonkers but brilliant set of musicians.
The rest of the album is a forceful slap in the face and concludes another fine album from a band still heavily in the shadow of Foo Fighters in the rock-sphere. Michael Eavis, make the right choice for 2019. QOTSA rule!
8) The Amazons – 'The Amazons'
Reading born and bred, the Amazons clock in at Number 8 with their fast-paced, chorus-screaming, gut-wrenching collection of songs from their self-titled debut album. And I tell you what, I'm gonna have a rant now – (overdue, I know).
How ON EARTH has this not been included in any end-of-year lists that I've come across so far? Please link me to some if anyone knows as I'd be interested to see but I'm honestly amazed that it hasn't. Here is a great indie-rock album designed for youngsters with songs about life, love, relationships, boozing, drinking, loneliness, work, enjoying yourself, not enjoying yourself so much etc etc. It's everything that a young band starting out from sunny Berkshire SHOULD be singing about. Cliche some might say? Not at all. When the songs are this good, this rehearsed and well-performed, it doesn't matter.
'In My Mind', 'Junk Food Forever', 'Stay With Me', 'Black Magic' and 'Ultraviolet' are all anthems in their own right. 'Something In The Water' and 'Little Something' both punch you where it hurts and are pulsating live. The Amazons are a young band with awesome ambition and talent. Massively underrated album in 2017.
7) The xx – 'I See You'
Fine, like a lip-licking bottle of red, the wonderful xx leaped back into our stereos after a five-year break in January and released their new style-shaping third album, 'I See You'.
This was pretty much the first record I fell in love with this year and I'm actually glad they took a hiatus after much touring, more spotlight than desired and more accolades than expected. Of course, Jamie 'xx', the producer, the brains behind the operation and the bloke who stands at the back with a drum machine and a couple of cymbals gave the world, 'In Colour', which made it onto my annual list in 2015 at Number Seven. This was hailed as a clean, mature club record, littered with samples, loops and collaborations; something The xx are not known for as such.
Well, the tables have turned. 'I See You' sees the London three-piece still delivering their sombre and unique performance style on tracks such as 'Replica' and 'Brave For You', but entering the club also. Opening track, 'Dangerous' presses play on the LP with a looped saxophone that intertwines quite sexily with Croft's and Sim's on-point vocals. Not to mention lead single, 'On Hold', one of the tracks of 2017, where samples are stacked and layered perfectly for the built-up chorus to form an iconic pop song.
Experiencing this live, with the sun coming down over Worthy Farm at Glastonbury on a warm Friday night in June was certainly a live highlight of mine this year. The xx, take more breaks, 'cause this album is bloody brilliant.
6) Sampha – 'Process'
This man. Oh, what a man. Most definitely in my top ten favourite human beings in Britain, Sampha Sisay, AKA Sampha, finally unveiled his long-awaited solo debut record back in February, and to much, much acclaim.
When I heard this for the first time in its entirety, I thought this was it, this is the best we're gonna get this year. Of course, that wasn't to be the case, but I guess it goes to show how desperate I and others were to hear what the Londoner had to offer on his own.
'Process' is a heartbreaking album in a way, written subsequently and inspired by the sad passing of Sampha's mother. 'No one knows me like the piano in my mother's home' speaks for itself and the song not only becomes one of Sampha's most popular, but is a beautiful anthem of 2017. He performed it twice at the Mercury Music Prize award ceremony in September after deservedly scooping home the renowned title. There's no doubt that it's gone on to be a very special song for people listening all around the world.
Aside from this, the instrumentation and accompaniment on 'Process' is certainly something to revel at. Every synth, keyboard, drum beat and layered vocal is explored on this forty-minute classic. The songwriting is second to none and Sampha has no intentions on stopping following the remarkable success of his debut effort. Most recently, he's been contributing vocals for musical project, Everything Is Recorded but personally, I'm looking forward to this 'difficult' second album he'll be writing and recording with a little help from his Mercury cash win. Difficult second album? My arse.
5) Loyle Carner – 'Yesterday's Gone'
Another family moment now, with 23 year-old Ben Coyle-Larner, doing what probably isn't rock-n-roll in the slightest, by asking his own Mum to write and record a poem about her son's early childhood. This would eventually feature on 'Sun Of Jean', the closing track on this stand-out, honest, bloomin' fantastic debut album, 'Yesterday's Gone'.
Named after his late Dad's long-lost recording, 'Yesterday's Gone' is one of the most down-to-earth, laid-bare, slick collection of tracks from a young British hip-hop artist you're going to hear this decade. With rhymes and bars flowing out the South Londoner like the Thames on tap, this album was one of the firm favourites to win the Mercury Music Prize, only to be succeeded by Sampha of course, as mentioned above. Tracks such as 'Ain't Nothing Changed', 'Stars And Shards' and 'No CD', take it 'back to basics' as best mate, Rebel Kleff raps on the latter track. The hip-hop format is simple, yet so unique. 'She could be my little freckled-face fidgeter' on 'Florence' is one of the many creatively poetic lyrics that feature on the album, and show a real wordsmith in the making. Carner is a massive talent, one we must treasure and one we must support. Real bright future ahead.
4) Kendrick Lamar – 'DAMN.'
What can I say? This man is just a genius. You think Mr Kendrick Lamar can't possibly can't get any better, then he releases 'DAMN'. Damn.
Insanely critically acclaimed, award nomination after accolade, this double platinum album is one of the most decorated of 2017, having also featured on most magazines' end-of-year lists, normally at Number 1.
Concerning underlying themes of success, angst, self-deprecation, love and friendship, as well as certain digs at the US media; 'DAMN' is already regarded as a rap classic, hip-hop royalty. And I can tell you, it really does deserve all the praise it gets, because it is remarkable. 'HUMBLE' hears Lamar going playful, with an awesome looping beat that gets stuck in your brain like the most brilliant, annoying song there's ever been. 'I am so fuckin' sick and tired of the photoshop' is an acapella lyric that will be screamed back at gigs and festivals in the UK next year. 'DNA' is the most frenetic, frantic, flustered rap song there's been in years. It must've been a bitch to master, the vocals are layered to perfection and the production is outstanding.
There is also the small matter of this being a concept album to an extent, with Kendrick coming out after the record's release and claiming that it can be listened to backwards as well as forwards. Last track, 'DUCKWORTH' includes a reverse scenario, which takes you all the way back to the start of the album in a matter of seconds. It all makes perfect sense when you've listened to the LP numerous times. 'DAMN' is a truly fascinating body of work, inside and out. I'd argue it's a game-changer.
The only reason 'DAMN' hasn't made it to the top spot is honestly because the next three albums mean more to me personally as we'll digest. But seriously, if it was scored on delivery, performance and creative ideas, Kendrick would be at Number 1. No question.
3) Wolf Alice – 'Visions Of A Life'
YES. The saviours of UK indie in the 21st Century were back with a bang this year, releasing the apparently difficult second album, 'Visions Of A Life', which followed the huge success of debut effort, 'My Love Is Cool' in 2015.
Difficult it obviously wasn't, 'Visions Of A Life' is a masterclass in how to write and record a range of contrasting guitar-based songs with a 2017 twist. Frenzied, feverish second track, 'Yuk Foo' is born out of lead singer, Ellie Rowsell's low self-esteem and no-bullshit attitude. She screams, 'Am I a bitch to not like you anymore'. The track and album in general also feels like a political and social stance, with Wolf Alice paving the way for young people in politics in 2017, standing against the powers that be for equality, women's rights and an end to xenophobia.
The tracks that follow are expertly diverse. 'Beautifully Unconventional' is a cracking little conventional indie-pop song. 'Don't Delete The Kisses' is a heart-throbbing smoocher, while 'Formidable Cool' is sexy, suave and forceful, all at once. Rowsell also gets angry again – screeching, 'But that's all he fucking did, when he fucked you on the floor'. Album finale and title track, 'Visions Of A Life' was described as a '7-minute odyssey' in a radio interview by the band prior to the album's release. It strikes as a rock escapade and is a groundbreaking track to polish off any LP. I saw them perform all these songs recently in November on their UK tour and they really are an animal live. The student crowd in Leeds worshipped them, as did I.
There's been talk this year that Wolf Alice are possibly the most important band in this country at the moment. Whether that's true or not, I can't say, but I will say that one day they WILL headline Glastonbury, they WILL win more awards and they WILL release even more amazing music. They're special.
2) LCD Soundsystem – 'American Dream'
In as the runner-up and after seven stupidly long years without a new album, it's visionary, James Murphy and his LCD Soundsystem crew – AKA, one of the best bands EVER (in my humble opinion – better known as one of my favourite bands ever).
For myself, 'American Dream' came with a lot of anticipation. Murphy has worked with Bowie (God rest his soul) and produced an Arcade Fire double-album between this record and third effort, 'This Is Happening'. As well as this, the band have been touring and playing festivals, performing the cult-favourites that their fans adore. This fourth release felt like a very significant one and as soon as I heard 'Call The Police' and 'American Dream' come out as a double A-side, I knew it was going to be something extraordinary. Both tracks build to a glorious showdown, one after the other, and it's Vintage LCD.
The band have also kept up with the times. Coming straight out of Trump's new-found America, Murphy wails on 'Call The Police', 'Oh there's a full blown rebellion, but your easy to confuse, by trigger kids and fakers and some questionable views'. Politically charged, with their own individual, electronic-indie instrumentation style; there's also an honest and relatable feel to the record. 'Change Your Mind' hears Murphy go into his shell and unveil how he's been for the last seven years. With projects galore and pressure always mounting, he's the face of LCD and softly sings, 'I ain't seen anyone for days, I still have yet to leave the bed'.
Generally, LCD Soundsystem are always raising the bar and questioning other musicians. 'Emotional Haircut' is a stab at musical perfection and is most likely my favourite track of the year. The last one minute and twenty seconds lollop into a moshpit frenzy and the volume can't help but be increased. 'American Dream' is a masterpiece, the North American scum ain't going anywhere anytime soon.
1) – The Big Moon – 'Love In The 4th Dimension'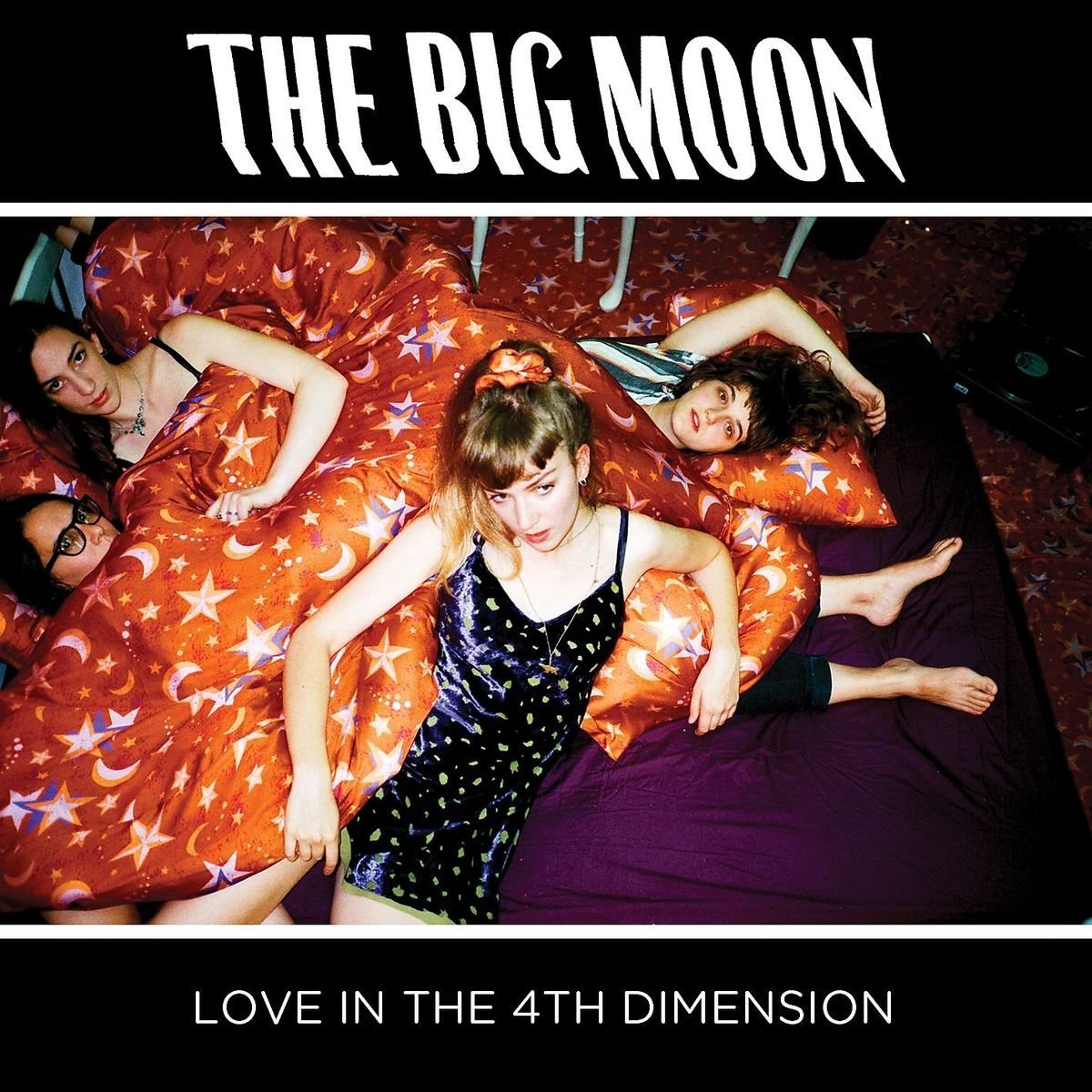 ❤ ❤ <3. Our Number 1 album, my album of 2017 is The Big Moon's indie-infectious 'Love In The 4th Dimension'. What a pleasure it is to finally write that. Some of you may have read my post on 'Girl Power' from a while back, where I was praising female-fronted bands, The Big Moon being at the top of that list. Well, that was at the time when I literally, physically could not stop listening to this album.
I discovered it late on after the release back in April and ultimately when the Mercury Prize decided to offer it a well-deserved nomination. What can I say? It may be a surprise to some people, it's a surprise to me really that this has topped the lot, but the fact is, it's a fantastically raw, brash debut LP from a tight four-piece. Reminiscent of the '90's, the album speaks to me and many others in a way that no other record has this year. Similar to The Amazons thematically, songs about love, lust, friendship, having a good time and fakeness all appear on this quick-fire, forty-minute shell-shocker. 'And I don't remember bringing in the new year' illustrates the band's solidarity on 'Happy New Year', while 'The End' hears lead singer, Juliette Jackson squeal, 'I'm melting over you' above crashing drums and guitars, a moment that gives me goosebumps every single time without fail as it reverberates through my stereo.
They feel like songs that should have written years ago, defining their personable relation. And truth be told, I've had a funny old year, personally and socially, full of massive highs and lows and massive ups and downs. This is the record that's stayed with me through everything and I want to thank The Big Moon for that. They're not breaking records like Ed Sheeran, they're not headlining festivals like him either, they're not setting the world alight, but they have released a debut album that is as good as any, and means so much to me in particular. There honestly hasn't been a record that's pounded me in the face like this in years. So thank you, The Big Moon. Thank you so bloody much.
Well, that's it for another year. What an exceptional year it's been for music. 2018 really will have to pull its socks up if its to match or even beat the delights of 2017. I for one am really looking forward to hearing what the next twelve months has to offer.
Anywho, at the time of writing this, it's New Year's Eve, so I hope everyone enjoys themselves, however they choose to celebrate. As long as you're listening to good music in the company of good mates, that's all that matters. The simple things in life, eh?
Nice one, cheers for reading. J x